Expanded Solutions LLC, formed in December, 2002 with the purchase of the assets of Acker Industries, is continuing the tradition of excellence established by Eric O. Acker when he founded the company in 1956. For over 60 years, our company has been providing quality expanded metals, security mesh, mini-mesh and expanded grating from our two Oklahoma locations in the geographic center of the United States.
Mr. Acker, trained as a tool and die maker, came to the US in the 1930's from Stuttgart, Germany. Operating a tool and machine design & engineering firm in Chicago, he was approached to build a machine to manufacture mesh for Sears & Roebuck Co. Through the success of this machine, one made for John Deere and one to produce ironing board tops – a brand new application – Acker machines began setting the standards for small-mesh. These innovations and many others through the years enabled Mr. Acker to sell machines in Italy, Columbia, India, Canada, Scotland and Belgium, as well as throughout the U.S. The Oklahoma City plant was originally built for the manufacture and sale of these Acker machines, but with increasing awareness of the availability of these products, Acker Industries rapidly began to produce and sell small-mesh here.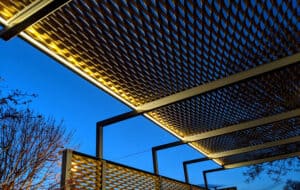 The variety of small-mesh products produced in Oklahoma City — from .003″ thick silver for battery applications through 16ga galvanized for filters and up to 13ga for a variety of applications — Acker Industries had created an entirely new market for expanded metals.
In 1964, Mr. Acker established a second plant in Wewoka, a small town about 80 miles east of Oklahoma City, to produce large-mesh.  Our plant there today employs over 40 people in what has been a Historically Underutilized Business Zone.  Expanded Solutions LLC is a certified HUBZone business.
In 2002, Carol & Rick, natives of Oklahoma, acquired the assets of the business from Ingeborg Acker, Mr. Acker's widow. She had run the business for several years after his death, but decided it was time to sell. Rick and Carol had left the state after graduating from the University of Oklahoma to pursue corporate careers – he with Alcan Aluminum and her in Public Accounting – and were very pleased to have the opportunity to return home.After graduating from university, two of their four children joined the company.  Drew, with a Mechanical Engineering degree from Michigan, and Josh, with a degree in Organizational Leadership (HR) from Purdue, joined in those roles.  Now, as owners of the company, their objective is sustained and continued growth.
Investing in the future of the business while continuing the traditions of innovation and excellence established over the last 60 plus years, the Bahners are confident that the future of Expanded Solutions is bright.